Guitarras Jaén will exhibit at the Luthier Guitar Show in Madrid, October 13 and 14.
If you like guitars and you can be there, don't miss it! You'll find all the information here.
I'll take four guitars (possibly one more):
A Berlin-II just as the one described in my latest posts, which I would describe as a hybrid electric-acoustic guitar: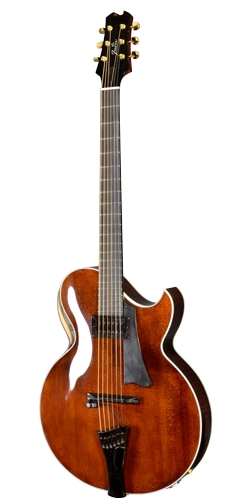 A Rialto (17 inch), traditional but with a modern acoustic design: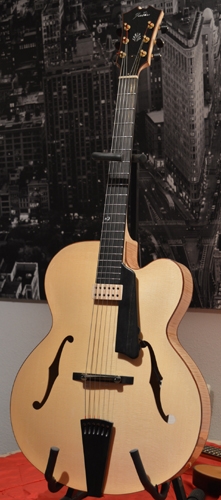 A Rialto Thinline with two very special floating pickups, with the controls integrated in them. It has a pearloid pickguard, first time that I used something like that:

A brownburst semiacoustic Lisboa, not finished yet. However, I can tell you it will be spectacular. It will have two of my own W-PAF pickups, with cocobolo cases, (just like the ones in the photo, except both with gold polepieces), reinforced curly maple pickup rings, curly ebony pickguard without a bracket and an exclusive ebony tailpiece with curly maple and ovangkol parts. I made the knobs also (cocobolo, maple and ebony).